ProChip Smart Decoder Firmware update

Why it's important to keep firmware up-to-date.
Check your decoder for updates regularly, to prevent unsupported firmware versions. With the ProChip Smart Decoder, the process of downloading, installing, and updating the firmware for all your decoders has been drastically simplified. If you follow this step-by-step guide, updating is done in no time!
1. Check for updates
Connect to a local internet provider via a cable connection via GSM (select on at server menu item).



2. Access menu 'status'
Select 'firmware version'. Now, wait until your current software version is displayed, together with its build date.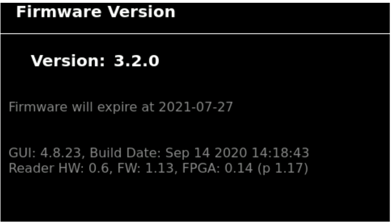 3. Update the version
If there's a new firmware version available on the network, an update button will appear. Press OK to update to the newest version. If you're already up-to-date, the update button doesn't appear.
4. Check your new update
Update complete? Now confirm it by rebooting to the new version. Verify that the new version works correctly.
In the rare occasion that the decoder will not booth after the update:
When the startup procedure fails after your update, the screen will freeze with [fail] after the test text. Try an emergency reset.
- Press and hold the power button for 7 seconds until the MYLAPS ProChip Decoder powers down.
- Wait 5 seconds before starting up the ProChip Smart Decoder again. The problem should be solved.
You can continue with normal use now.

Are you still facing issues? contact the support team.
Looking for more information or more step-by-step guides? visit help.mylaps.com for more manuals, guides