8 Tips to enhance safety on your motorsport circuit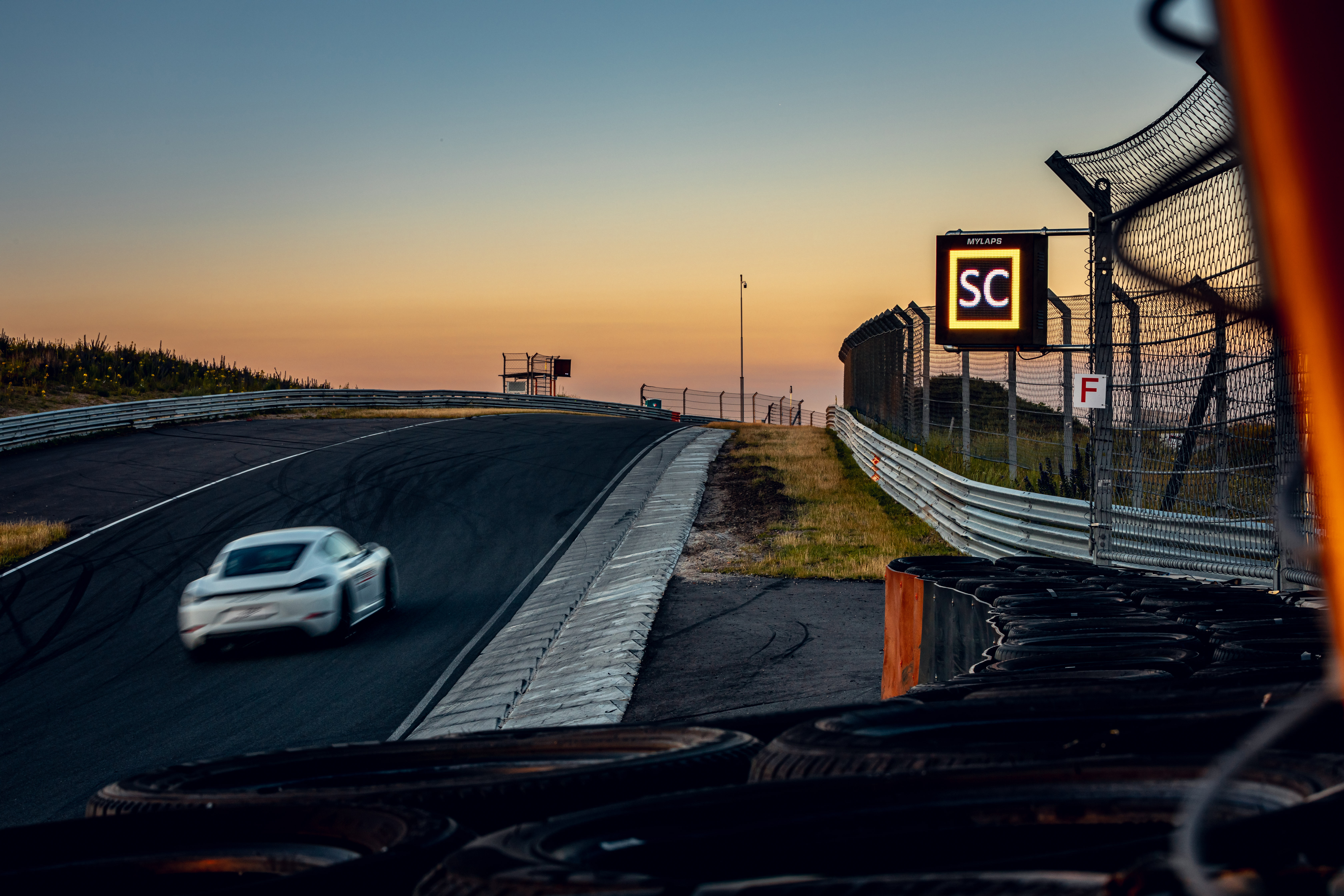 A head-to-head race, dominance from the first lap, junior drivers or world championships: nothing is more exciting than motorsport. In the past few year's we have rapidly seen new innovations and technical improvements being launched, making the sport even more exciting. Governing bodies like the FIA and FIM have made track safety a top priority for the upcoming years. That is evident with the new FIA regulations for graded circuits around the world, where further track safety enhancements plays a pivotal. But how does 'Race Control' operate on the circuits in the first place?

This blog helps with the first steps in the Race Control world: by discussing 8 subjects that play a role in Race Control, you''ll learn the most vital operations and the first questions answered. Are you looking for more detailed information on the first steps in the Race Control world? Download our whitepaper here. It includes a visual example of Race Control Systems on track, and more detailed information on other topic.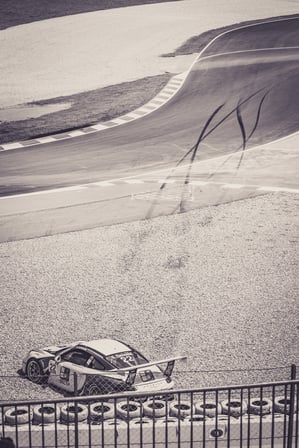 1. Start with the basics
As a racing competitor, the term 'Race Control' is often used interchangeably with 'Race Direction', and particularly, the application of sporting regulations. But for day-to-day track management, the function of Race Control is considered in 4 Pillars: Surveillance (CCTV), Marshalling/Flagging, Tracking and Event Logging. With ever advancing technology and evolving safety regulations, tracks need to be continually reviewing theses 'pillars' and planning for investment.
2. Think about the future
Alongside keeping pace with technology and regulations, when considering investment, it's vital that tracks consider the changing sporting and commercial landscape. Hosting high profile national and international race series, leads to increased Testing and Trackday revenue opportunities, so setting up Race Control operations to be efficient and attractive to these series can help commercial revenue generation in many ways, and further generate return on technology investments.
3. Flagging goes digital
When Race Control need to communicate with the track users, Marshals (Corner Workers) are there to flag warning and communicating with Drivers and Riders – often at personal risk. One of the most high profile recent development to support marshalling, is the introduction of Digital LED Panels, for both FIA/FIM homologated and non-graded tracks. By supplementing traditional flagging, and in many cases, replacing the needs for a flag marshal, Circuits can redeploy personnel into better and safer positions trackside, and improve safety for both participants and their own team.
4. ... and on-board
In addition to Trackside operations, some Race Control solutions offer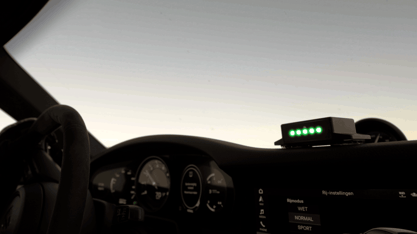 in/on-vehicle support. On-board solutions allow Race Control to communicate directly, via o
n-board devices that deliver flag instructions, with the Driver or Rider. In addition to traditional flags or LED panels, the on-board marshalling solutions supplement trackside notifications and improve reaction times in situations where fractions of seconds really do matter.
5. Keep 'Track'
Every Circuit needs to know who is on track at all times. Monitoring the precise location of every vehicle can be a challenge and comprehensive, high-quality CCTV coverage of the track is the first measure in achieving this. Circuits need to choose a system carefully, considering infrastructure limitations (power, networking etc), user needs and costs.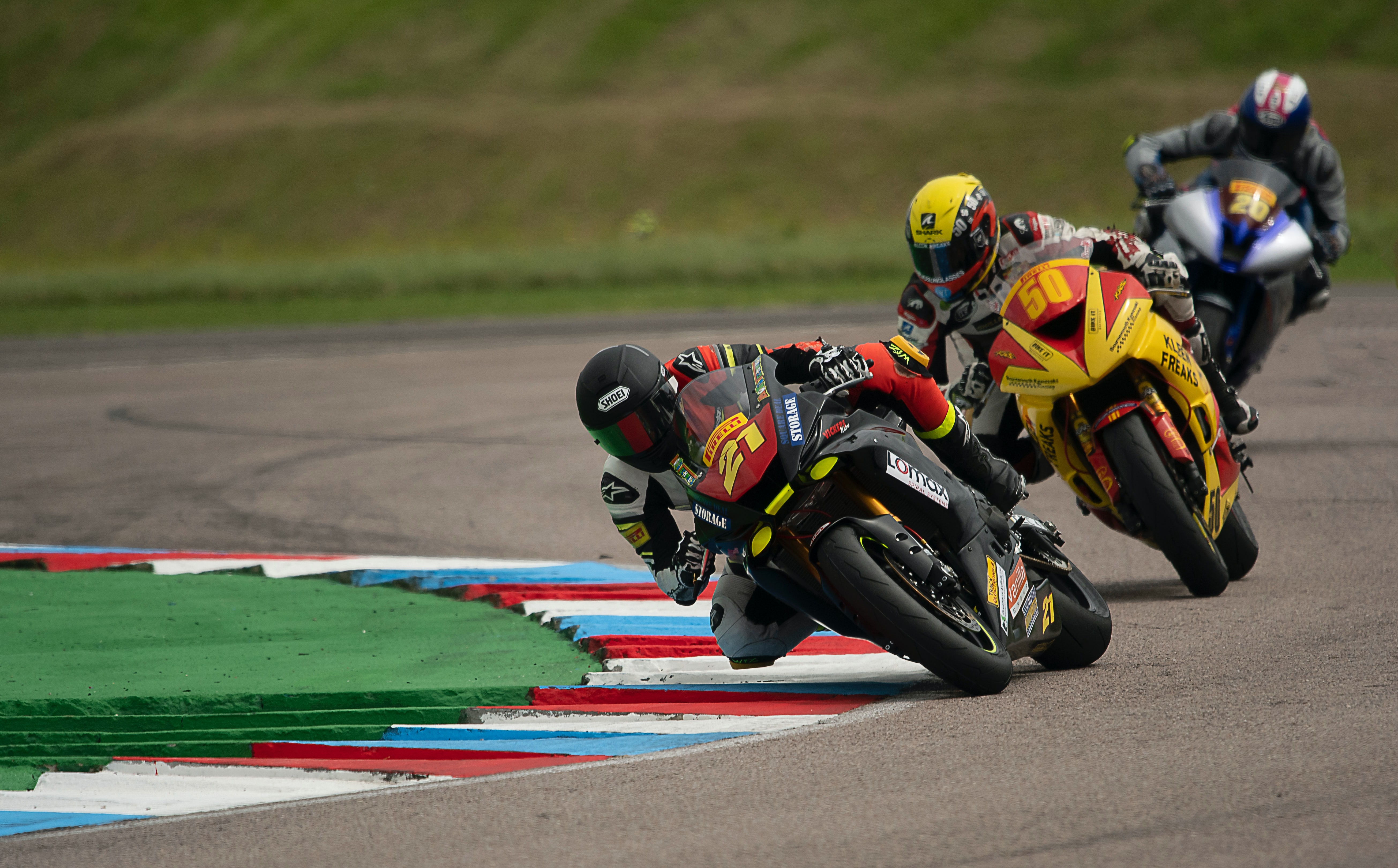 6. Control with software
Trackside and on-board operations are controlled through a software interface. Whilst functionality from software such as automatic flagging, CCTV integration, stop-detection, and accident detection, are vital, also important is the ease of use for day-to-day operations and reliability and robustness of a mission-critical tool.
7. Be aware of grades by governing bodies
Many circuits globally have achieved FIA and FIM graded status - the FIA recognizes 6 grades in total, 1 being the highest – and this enables them to host racing of different levels. Although primarily based on physical elements, such as circuit length, width, banking, run off areas, and protective measures, the introduction of safety technology plays a part in the
circuit grading process. Factors such as regulated starting lights, and digital LED panels are increasingly a factor at all levels.

8. Choose a tailor-made setup that fits your needs
When building a picture of their requirements, Circuits often discover it can be difficult to find a one size fits all solution within budget and timescales required. Whilst some do opt for expensive bespoke development, most choose solutions providers that offer core functionality, but with the ability to grow and develop over time.
Download the whitepaper with more detailed information and example of a Race Control system's setup.
Download the free Race Control Whitepaper below: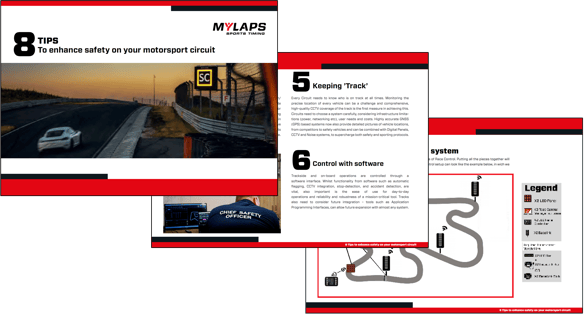 Learn in the free Race Control whitepaper all about:
How you can improve safety at your track

What to keep in mind when planning circuit infrastructure

How a race control system can look like



More on Race Control Solutions
Looking for more detailed information on Race Control solutions , or do you want to learn how these can be applied at your track? We are happy to discuss the possibilities for your circuit together. MYLAPS offers the X2 Race Control system. It consists of 4 pillars; Tracking, Advanced Track Management, Marshalling and Live Data.

These pillars are fully customizable for your track, offering a tailor made solution for your circuit. Visit our website to learn all about the MYLAPS X2 Race Control system and how it can help you meet the new FIA requirements, enhance track safety and the race experience for drivers and fans!